What is Threads, Should You Join, and How to Use it?
DISCLAIMER: As an Amazon Associate I earn from qualifying purchases. This post contains affiliate links that will reward me monetarily or otherwise when you use them to make qualifying purchases. In addition, there may be non-Amazon affiliate links in this post which means I may receive a commission if you purchase something through a link. However, please be assured that I only recommend products I have personally used and love!
Last Updated: 7/12/2023
Everything You Need to Know about Instagram Threads. So I'm on Facebook and I see a post about Threads. What the heck is Threads?
Come to find out, it's a new social media app. Another one? Yes!
Threads is Meta's version of Twitter and people are going bananas over it.
I'm just excited that for the first time ever I actually joined something new within the first 24 hours of its launching.
And I was still the 23,781,372nd person to join. So likely you have heard about it.
But just in case you haven't heard of Threads or are overwhelmed by the thought of it, I created this blog to help you know everything you need to know about Meta's Threads app, should you join, and how to get started Threading.
What is Threads by Meta
Threads is a new app from Meta that is a duplicate of Twitter. It launched on July 5, 2023.
And it's text-based.
It's pretty cool. It's fun. It's pretty awesome.
In order to join, all you need to do is go to your mobile device like iPhone or Android and download the Threads app.
You can then log in via your Instagram account.
And you can even set it up pretty quickly by using the same information you have on your Instagram account as your threads account if you didn't have time to write out a bio or anything like that
Once You're In, You're In?
"Once you return you can never come back," (in my "All Dogs Go to Heaven" voice) ~ (ok somebody is going to know what that is in reference to.🐶).
Anyway, what do you need to know about Threads before you join?
Apparently, if you create a threads account, you cannot delete it without deleting your Instagram account as well.
Adam Mosseri, head of Instagram talks about it here...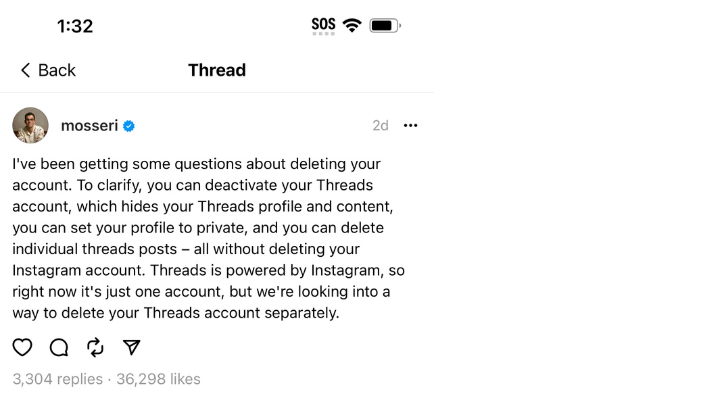 So you can deactivate your Threads account but you cannot delete (yet) your Threads account.
You can also read it here for yourself on Threads Supplemental Privacy Policy which states: "You may deactivate your Threads profile at any time, but your Threads profile can only be deleted by deleting your Instagram account."
The second thing to understand, there are certain things that aren't available on the app. We are seeing it at its beginning stages.
This means that those who join will be able to help shape the app for the future.
Teachable moment: And for my fellow procrastinators out there, seeing this tool coming from the ground up is kind of cool. It just goes to show how you can start before you're ready. Meta did not wait until this thing was perfect to launch it. They launched it when it was good enough and now people can let Meta know exactly what they want to see in Threads, so that can make it even better.
What Can You Do With Threads?
What can you actually do in Threads? What are the rules?
As of now, you're able to post texts, videos, and images.
Just like Twitter, there is a character limit. You can only post 500 characters per post.
At the time of this publishment, it seems you only post up to five minutes of video.
Yes, you can see Threads from your desktop but you cannot like, post, repost, or share to Instagram Stories unless you're using the app.

If you try, you'll likely see this…
Using Threads on a desktop you can copy a link or report a problem.
From your mobile phone, and I assume tablet as well, there's a share functionality to your Instagram stories. So that's pretty cool I guess.
And remember when I mentioned earlier that I was the 23rd millionth person to join? Well, from your Instagram account, if you click on this number you'll be able to go to your Threads profile or hide it. And if other people click on it, they are taken to your Threads account where they can follow you.
According to Mosseri, the ability to sort your feeds will become an option. However, it's not available as yet.
After you Join, you can switch back and forth from Instagram to Threads by clicking on the Threads icon or Instagram Icon.
From the desktop, you can click on the Threads logo to toggle your background to black or white (to my knowledge this is desktop only, I haven't tried on mobile). There are not a whole lot of reasons (if any) to use the desktop version unless it's easier for you to copy a link. You'll probably be on Threads via your mobile device 99.9% of the time.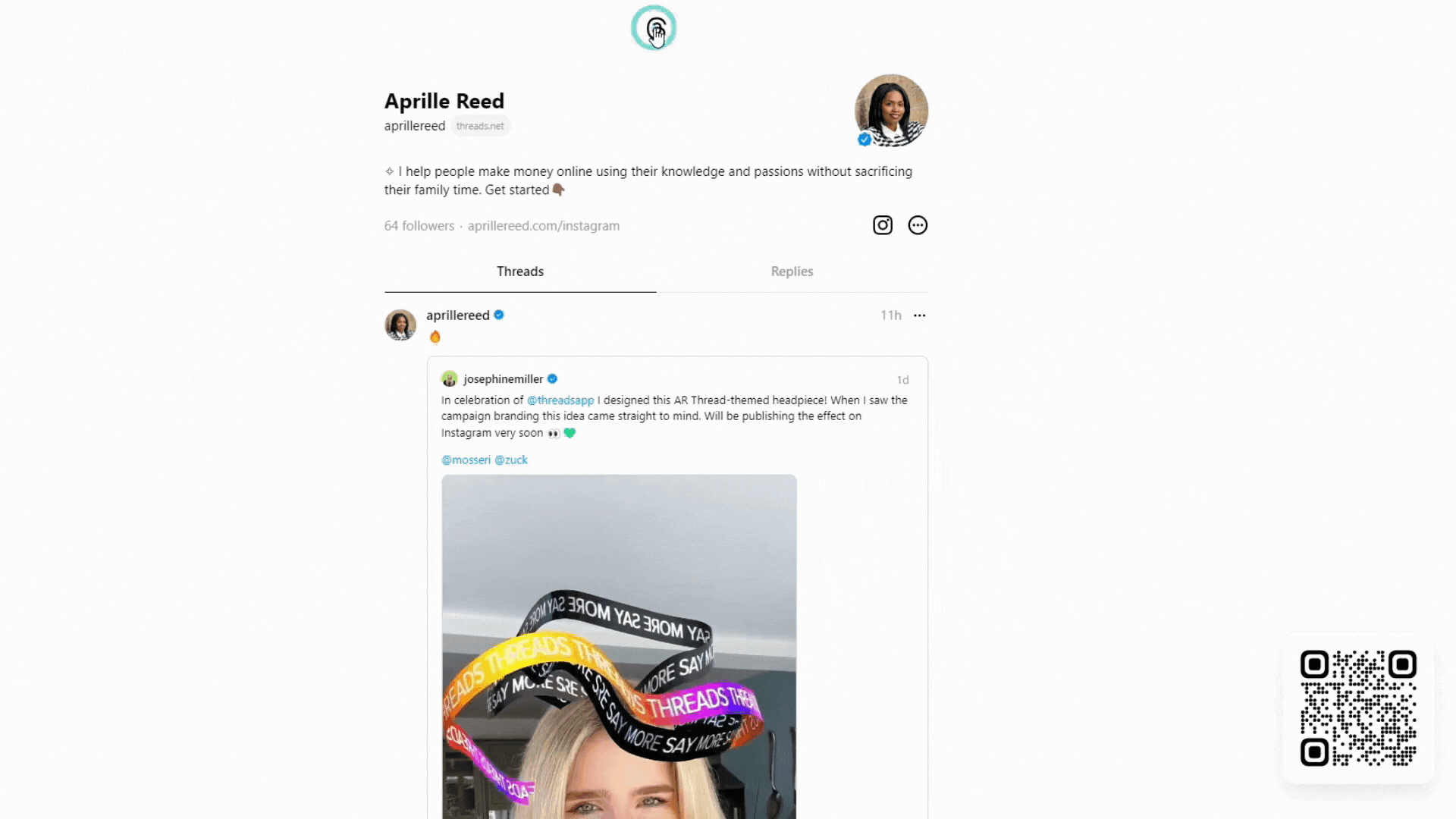 It's almost like there are little easter eggs here and there to discover…
Should You Join?
Should you join Threads? Threads' focus is connecting with others via text.
Yes, you can post photos, but there is not a lot you can really do on the app other than good old fashion conversations.
So you're just chatting. So the maintenance of it might be limited.
Which is a great thing right?
You can repurpose content you post on another platform to Threads and you can share your Threads to Instagram.
How long is this app gonna be around? I don't know. But as of now, it's the hottest thing on social media.
I guess you could create an account just try it out and see for yourself.
If you're in business, you likely made money without it. But one rule of business is being able to adapt and stay relevant.
I encourage you to join and check it out. It can't hurt. Just don't forget once you create your Threads account, it's connected to your Instagram account, forever - or at least until Meta updates that feature.
How to Join?
Follow these steps to join Threads.
1. Download the app.
From the App Store: https://apps.apple.com/us/app/threads-an-instagram-app/id6446901002
From Google Play: https://play.google.com/store/apps/details?id=com.instagram.barcelona
2. Open threads and choose login with Instagram. If you have more than one Instagram account, you can switch accounts by tapping on Switch accounts and using your other Instagram account.
3. Next you'll set up your profile by adding your image, bio, and a link. This is one link similar to your Instagram bio link.
4. You can do this from scratch or import from Instagram just to get started as quickly as possible and update later.
5. From there you'll be asked if you want a Public or Private profile. Choose what's best for you. You have the option to change this later in settings.
6. Next you'll be asked who to follow. You can follow the same accounts you do on Instagram, select a few, or skip them for now. You can also add from email and contacts.
7. Click Next. Click on Join Threads. Finally, choose whether or not you want to allow Threads to send you notifications.
That's it! You're in. Let's connect! You can find me here: https://www.threads.net/@aprillereed.
Can You Add Links?
When setting up your account, you are allowed to add one link to your profile.
However!!!!!!!!!!!!! In your actual thread, you CAN add links 😀👍🏾
How cool is that?!
Following Your Activity
If you want to view who has followed you, who you are recently following, replies, mentions, and verified accounts who follow you, click on the 'heart' icon.
Then just toggle between
All - To see all activities.
Replies - Replies to your Threads.
Mentions - Accounts or posts that mention you using the @ symbol.
Verified - Verified accounts who follow you or request to follow you.
How to Post a Thread
Threading is simple. At least I assume creating a new post or new thread is called threading 🤔
Click on the New thread icon at the bottom of your account
Write a message. You can also click on the paperclip icon📎to insert images and videos from your Photos on your device.
By default, Anyone will be able to see your thread. However, clicking on "Anyone can reply" will give you the option to choose who can see your post.
Once you're happy with your post. Click on Post. That's it. You just created your first thread.
How to Post a Thread Within a Thread
Jamie Bright Adventures discovered how to post a thread within a thread. Aren't they clever!
Jamie @jamiebrightadventures also gave a bonus tip. You can see their full post here.
I gave it a try. You can follow the steps below.
How to Repost Someone's Thread to Your Own Thread Profile
There are two ways to repost someone's thread, or even your thread, into your own thread.
You can "Repost" or you can "Quote." When you click on Repost, it will instantly repost the thread into your own thread.
When you click on Quote, you have to opportunity to add your own caption to your thread first.
See the image as guidance below.
Timeline of Threads
Since I joined a little early, I thought it would be cool to record some historic data. Maybe you'll find this a nice section to read or maybe you could care less. However, I'm doing it.
First 24 Hours
What's the vibe like for the first 24 hours of Threads? Very casual! Just having a chat. I'm finding Threads a lot less intimidating for this Introvert.
So many people and brands are having fun on the app.
So far no real marketing or selling that I can see. But of course, I'm sure influencers and entrepreneurs are probably going to start promoting themselves on the app, I definitely am.
I have a business so I will probably post certain things from time to time, but I'm just enjoying the chill right now.
There are no ads on the app, not yet anyway. And hopefully, it stays that way.
Threads is really simple.
Maybe that's what's making it so cool. How simple it is that all you can really do is just chat and add images and videos. No need to create Reels, Tik Toks, or transitions FTW! 🥳
Day 1, there just seems to be a little debate on whether to post about your business or not to post about business.
I say, do whatever works for you and you can stand behind!
First 48 Hours
And on the 2nd day, entrepreneurs saw that it was good - I've seen more businesses talk about their offers and use it a little more strategically.
I haven't done so yet, but I'm definitely going to post about who I am and what I do. Because why not?
I also want to share about Amazon's Prime Day coming up.
Speaking of which (a little plug 🤏), I have curated the best Amazon Prime Day Deals for those working remotely at home. Be sure to check it out for the best Prime Day Deals.
First Week:💎Hidden Gems💎
Threads has been available for a week now. Mosseri, head of Instagram, has posted a new thread called 💎Hidden Gems💎 in Threads.
He goes over some of the tips I have already laid out previously in this post but also shares others so it may be worth looking at.
To see the gems, you have to click on replies, and the top replies are each gem.
Just scroll to see each one.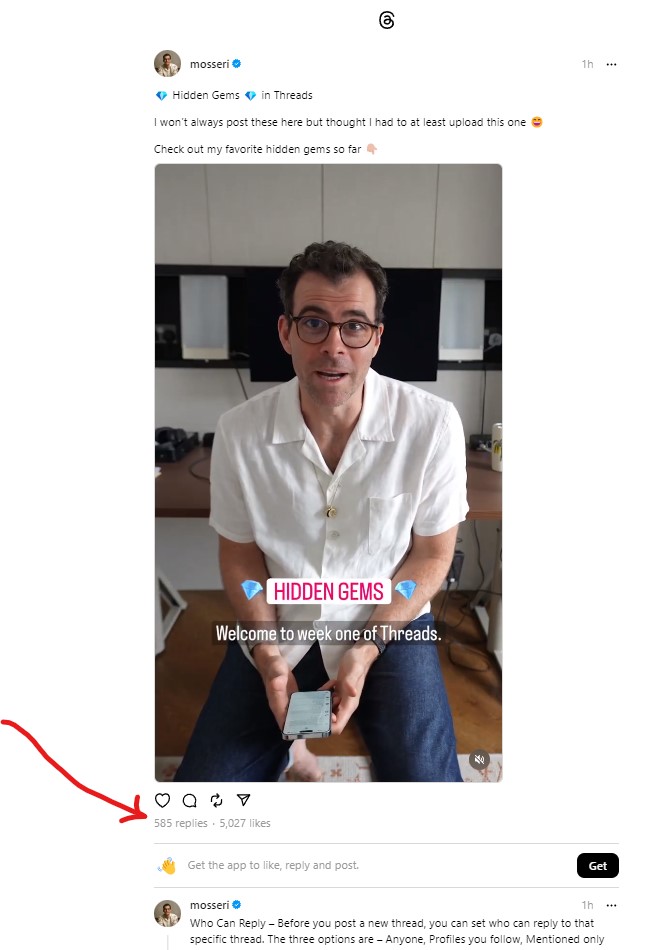 Give it a Go.
Are you gonna give threads a try? I'm over there on Threads.
This is my link: https://www.threads.net/@aprillereed.
If you want to give me a follow we can figure out this thing together.
If you will love more tips like this. Be sure to share your name and email below to join my email list so we can stay connected and you can get business content just like this straight into your inbox. You're free to unsubscribe at any time.👍🏾