Kajabi Alternative: Is Graphy the Next Best Online Course Platform for 2022?
DISCLAIMER: As an Amazon Associate I earn from qualifying purchases. This post contains affiliate links that will reward me monetarily or otherwise when you use them to make qualifying purchases. In addition, there may be non-Amazon affiliate links in this post which means I may receive a commission if you purchase something through a link. However, please be assured that I only recommend products I have personally used and love!
Are you looking for an All-in-One Course Platform Kajabi Alternative? You know you need to move your website and courses to a new platform. But where do you start? What features should it have? And how can you be sure that the new system is right for you or your business needs? Let me tell you about Graphy, a Kajabi alternative for course creators looking for an all-in-one solution for their business.
Graphy is the best new online course platform for people looking to create courses, marketing pages, and more. Graphy offers a variety of features that make it an attractive alternative to Kajabi. Let's take a look at some of its benefits:
Graphy offers a free trial so you can take the course platform for a spin and explore everything that is possible for your knowledge business with the platform.
You can create a professional website and course in minutes with Graphy's easy-to-use drag and drop builder -All Graphy paid plans come with the ability to create (get this) unlimited courses.
Offers beautiful templates that are mobile responsive and look great on all devices. Whereas some platforms have templates per type of page only (like the home page or sales page), Graphy offers multiple templates per section. Isn't that wild?
To learn more and get started with Graphy click here.
Build Your Custom App With Graphy
Let's talk about the ability to create your own custom app with Graphy. I'm not one of those people that says you 'SHOULD' do this or you 'SHOULD' do that, but I run a lot of Facebook ads and so I see that people aren't on desktop as much as they used to be and most online activity has shifted to mobile.
Having a mobile app means more engagement with your students. Kajabi has an app, Teachable has an app, Circle has an app, does MightlyNetwork have an app? I don't know but these course platforms have way more money than we do and can afford to do market research and "the Survey says" students love apps.
Multiple Page Builder Templates
I'm a pretty big fan of Kajabi, but I know that not everyone is. Maybe you're looking for something more flexible or maybe you just want to see what else is out there. Maybe you don't like the limitations of building your courses in one place and then getting stuck with the same templates and layouts forever.
Look at the sales page I built on the site. It took about an hour, I didn't finish, because I'm still learning where things are... but so far it's beautiful.
And then here are the templates per section I was talking about. There are many sections to choose from to create your unique webpage.
Below are just a few examples of templates from the header section you can choose from: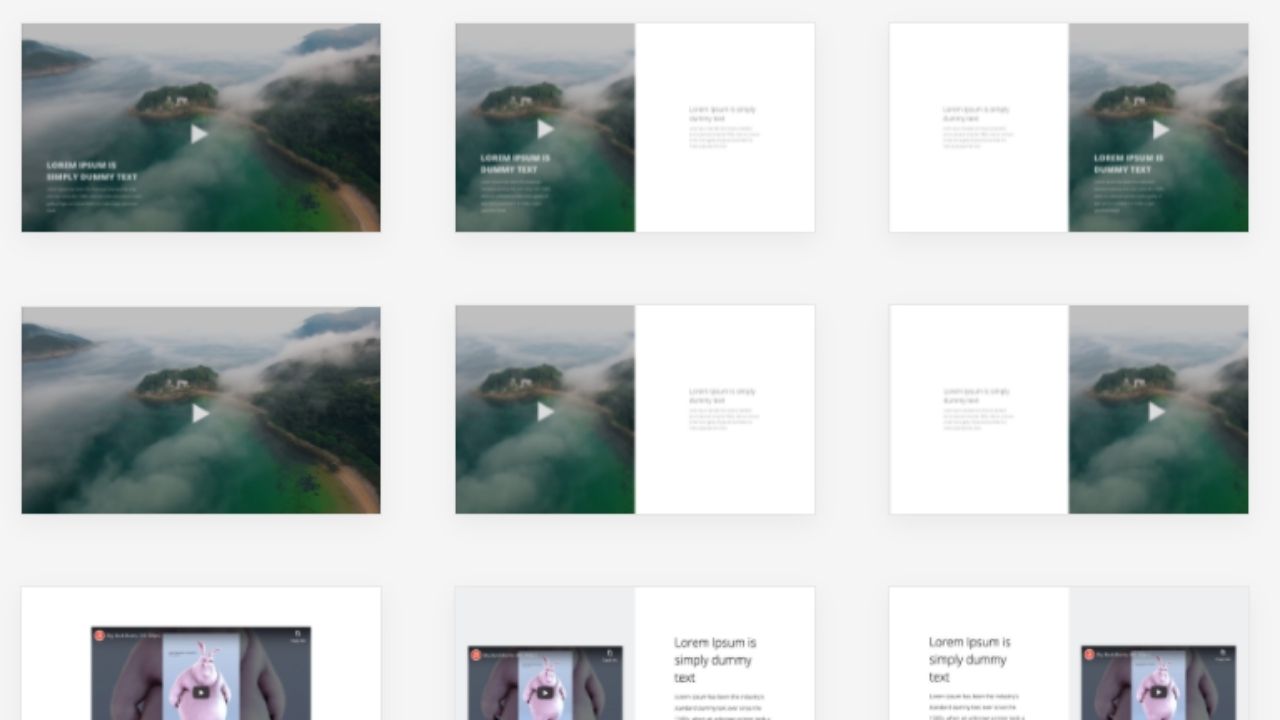 Here are just a few examples of the pricing section you can choose from:
Below are just a few examples of templates from the feature section you can choose from: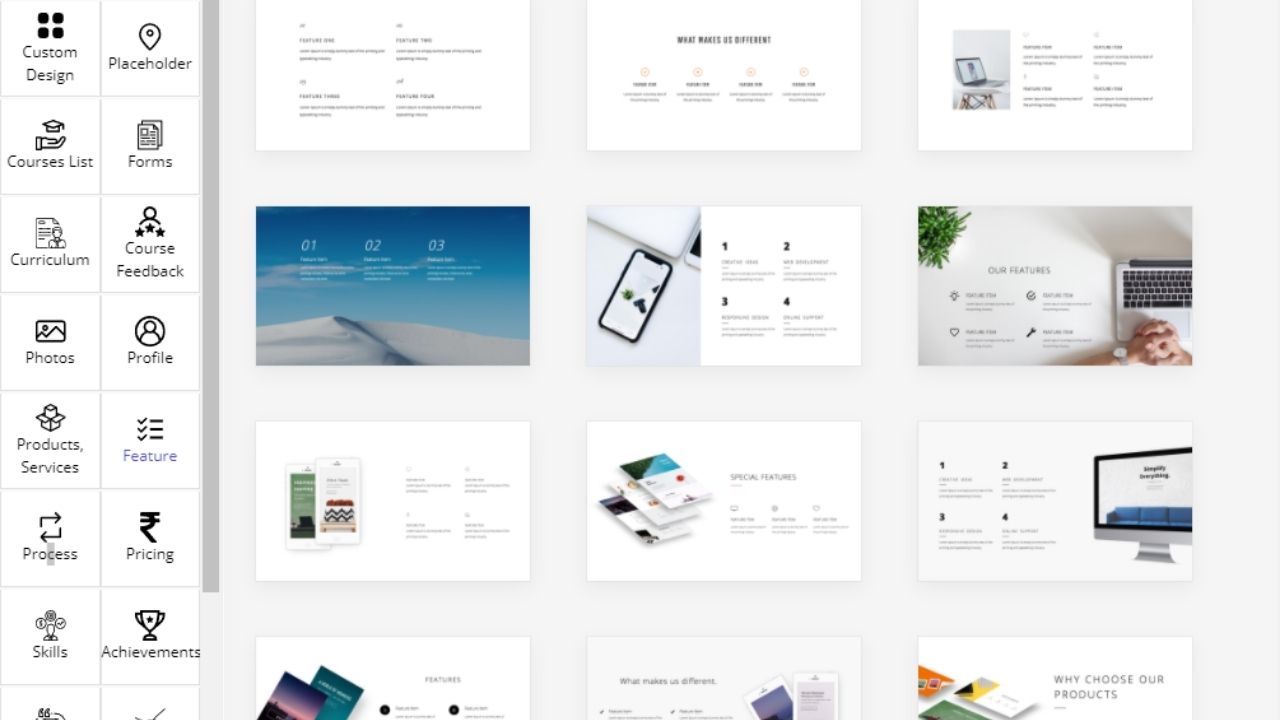 Secure Your Course Video Content
Graphy's custom technology provides an extra layer of protection for your videos, securing them through encryption and authentication. This is important because you want to ensure that the content itself remains safe from prying eyes!
Even if a student shares their login credentials with another person, with the security features in place - when that other person tries to sign in with the unauthorized shared login, you're going to know it.
Dynamic Watermarking
To prevent screen captures on browsers, the course platform adds dynamic watermarking while playing the video content. When toggled on, the app automatically adds dynamic watermarks while playing back content so even if they take out another device and try recording anything with it - there'll be no clean capture because of the amazing anti-screenshot measures! As a matter of fact, the student's name and identity are displayed within the watermark.
No Video Downloader
Also, there's no video downloader which means students cannot download and play video content from the player. If somebody tried to do it, a black screen will show. However, you can give your students the ability to download for offline use. So students can view the material offline, but will not be able to take it out of the course and save it to their device.
Reward Your Students
I use Kajabi for my courses currently. In one of the courses, I offered my students certificates and badges whenever they complete a module or lesson. I had to set up the automation and tags manually that would send out an email containing their badge or whatever.
But whether you have 1 student or thousands, Graphy makes the process easy to reward your students with certificates. Plus, the platform allows you to track student progress and performance so that you can be sure they are meeting your course requirements. This adds subtle gamification.
Deliver Live Trainings
You're able to teach live from your course platform, do a live onboarding video using Zoom and be hosted right there from your course, offer a live Q&A, think of it like Facebook live. But from your course platform. You can use Zoom or YouTube live for these videos and all your content will be accessible to your students on the app.
Because think about it... So you're a student with a course on Teachable but have to go to Facebook or Zoom to participate in a live training or discussion. I don't know. How do you feel about that? As a course creator, how do you feel about that? Well now just go to the course. I'm seeing this very University level-type platform, but cooler because we're entrepreneurs who appreciate aesthetics and design.
And when you're finished with your live content, the video can be recorded and saved later as lessons. And I know you can host a live video in Kajabi, such as a webinar - but not in your course. It's just not integrated that way. Unless there's a workaround I'm not aware of.
Graphy is a very future-forward product with features that a course creator might need (including recorded content, live classes, assignments, quizzes and tests, content scheduling and multi-language support, etc) available under one umbrella. 🤩
More Features (Some, Not All)
So just like Kajabi... with Graphy you can host your website with unlimited content on every plan. You can use your own domain name in any of the paid plans and create subdomains You can set up your affiliate program and pay your affiliates commission or on a credit-based system where you reward credit that can only be used to purchase content from your site. Or another idea is you can even sell credit. That's pretty cool!
And you don't have to host your video on Graphy if you prefer not to, you can host them on other platforms like Vimeo, YouTube, and others.
Your revenue is yours, Graphy does not collect any revenue share and provides integration of multiple payment gateways, therefore, it is easy to use for all geographies.
Recap
What we have learned about Graphy so far...
Graphy provides an end-to-end solution for online course creators. Course creators will not need any other platform to run their business if they opt for Graphy.

Graphy provides completely white-labeled websites and mobile apps so that any online educator can evolve exponentially and create a thriving brand for their business.

Graphy is a very future-forward product with features that c

ourse creators

might need (including recorded content, live classes, assignments, quizzes, tests, content scheduling, multi-language support, etc) available under one umbrella.

Graphy provides very high-security measures and no chances of piracy or unauthorized access.

Graphy does not collect any revenue share. Major plus!

Graphy provides integration of multiple payment gateways, therefore, it is easy to use for all geographies.
Next Steps...
So there you have it, my friends. Is Graphy the next best online course platform for 2022? So far, it has my vote for sure!
If you're looking for an affordable course platform that has all the bells and whistles (plus some extras), then I highly recommend checking out Graphy. It's easy to use, comes with a free trial, and best of all - there are no restrictions on how many courses you can create or students you can enroll. If you have any questions, leave them in the comments and I will be sure to respond and answer to the best of my ability.
Click the link to learn more about Graphy and sign up for your very own account today! Thanks so much for watching/reading and I'll see you in the next video!
If you would like to watch the video version of this blog post, please click the video below.
https://www.youtube.com/watch?v=MH6FPeyk5nw
If you enjoyed this blog post and found it valuable, please save it to Pinterest so that other people can read and learn too!